JackWagon Woodworking
Regular price
$125.00 USD
Regular price
$155.00 USD
Sale price
$125.00 USD
Unit price
per
Sale
Sold out
Locally sourced hardwoods and FDA approved, food-safe, glue is used in every board. I apply a coat of food safe Tung Oil beeswax and food grade mineral oil that will keep your cutting board looking amazing. Comes with Chop N drop plate!
Dimensions: 16 x 11 x 1.5 inches
*** Care Instructions ***
Sanitizing/Cleaning:
Wash with hot soapy water after each use and dry it with a clean paper towel or let it air dry. Do not soak or submerge the board in water, for this will disrupt the moisture content and cause the rails to split. Wood cutting boards are NOT dishwasher safe.

Maintenance/Care:
A minimum of once a month (depending upon the use and household conditions), apply an even coat of JackWagon mineral oil/Beeswax (or the cutting board conditioner of your choice)to all surfaces of your wood cutting board using a cloth or disposable towel. Allow to fully penetrate through the wood fibers overnight, then wipe off any excess oil. Apply additional oil to any visible dry spots or for any other necessary reasons. When the cutting board becomes dry and lighter in color, you know that the time has come to re-oil your board. A quick alternative would be to use mineral oil only. DO NOT USE ANY TYPE OF COOKING OIL ON YOUR WOOD CUTTING BOARDS. THIS WILL DAMAGE YOUR BOARDS. Store your wood cutting board on end to dry if it is damp. If your cutting board is already dry, store it flat in a dry area away from extreme hot or cold temperatures.
Share
View full details
Questions we get asked all the time.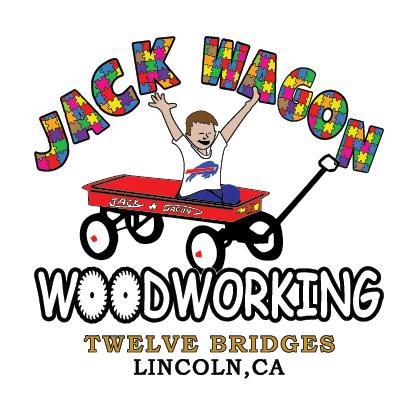 Where are JackWagon products made?

All our handmade products are made in the USA in Lincoln, CA with locally sourced hardwood.
What finish does JackWagon use?

We use all natural food safe tung oil on all our cutting boards, serving and charcuterie boards.
How long does it take JackWagon to make their products?

Typically it takes 3-5 business days to process an order depending on how busy we are.